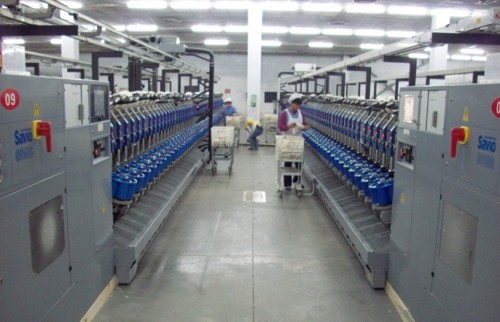 This year is a more tangled and difficult year for textile machinery companies. The economic downturn has brought about a depression in all walks of life.
In more than one interview, we once heard the sigh of helplessness of the operators of textile machinery. We have received letters and calls from many audiences in search of close cooperation. We have witnessed the counter-trend development of some enterprises after struggling; We have also been invited many times to participate in major events of different companies in order to truly and accurately report the rapid development of each company's rapid flow and counterattack momentum.
As a textile giant, China's textile machinery industry is a top priority for the textile industry, which deserves special attention. The corporate leader is the core and key figure of a company. It is the mainstay of the industry. Whether their decision-making and management are advancing with the times and whether they are far-sighted have a direct impact on the development and operation of a company, and even on the life and death of the company.
The report of the 18th National Party Congress pointed out the direction for China's future scientific development. Leaders of textile machinery enterprises across the country were encouraged by the report of the general secretary and expressed their desire to implement innovation-driven development strategies based on the status quo of their own development. Market-oriented, build an innovation system that combines production, learning and research, guide and motivate enterprises to implement the excellent performance model, use scientific management concepts, methods and models to continuously improve corporate performance and competitiveness, and contribute to building a strong textile country.
So, how many leaders of textile machinery companies have spent 2012? How are their business operations? What specific response measures have been taken? What is the future of the industry? Let's take a look at what entrepreneurs we interviewed in 2012 and what they said...
Promote differentiated production equipment upgrades
Taizhou Cotton Friends of the Textile Equipment Co., Ltd. General Manager Cai Fuquan
In 2012, our company focused on accelerating production and upgrading, and used the automation capabilities of advanced equipment to effectively reduce labor costs and increase product technology content.
Although the labor cost of enterprises is a problem in the industry, the use of advanced equipment, automated functions, so that the machine can replace the manual labor, you can reduce the company's number of workers, thereby effectively reducing labor costs and save money.
From winning by quantity to profit by quality
Shanghai Far East Steel Wire Cloth Co., Ltd. General Manager Zhou Jianping
2012 is a difficult year for the Far East and a year of hope.
The "Twelfth Five-Year Plan" has clearly pointed out the direction of future development of the textile machinery and textile machinery industry. Therefore, how the textile equipment industry complies with this historical trend and continues to accelerate the adjustment of product structure and change the economic growth model is our entire industry. And every company cannot avoid the choice.
High-end market brings new growth point
General Manager of Changzhou Hangyue Textile Machinery Co., Ltd. Li Jiaoyan
In 2012, we are most concerned about whether the domestic textile industry will have a fundamental turn for the better. If the sales pressure is relatively high, we will face the vicious competition of market price cuts.
The fierce market competition environment requires that we must accelerate the pace of enterprise transformation and upgrading and technological innovation. We must work hard from the production equipment, and we must actively develop new technologies and new products to replace the original backward technology.
Quality wins orders
Zhang Xiaonan, Chairman of Jiangsu Little Sun Machinery Technology Co., Ltd.
An important goal of the company's five-year plan is to build the Little Sun brand into a world-class, well-known brand, establish a high-quality, highly-skilled team, and create a company with a first-rate full-scale happiness index.
Although textile equipment and accessories are a small industry, it is difficult to fundamentally solve the problems existing in the current development by relying on the strength of each enterprise. Enterprises need no support from national policies.
The product does not make the market
Shaoxing Shuifu Textile Equipment Co., Ltd. General Manager Zhu Shuifu
I think the situation this year requires equipment companies to keep their product reserves at all times. In order to meet the needs of users in a timely manner, our company's warehouse has prepared various types of cymbals at any time.
The biggest problem encountered in the development of the textile equipment industry is the lag in product development and lack of talent. Most companies invest very little in scientific research and are still in the imitation production phase.
Take brand building as a breakthrough
Changzhou Wujin Niutang Ruyi Textile Equipment Co., Ltd. Chairman Wan Rusheng
This year, we will do a good job in the two items of stainless steel drop wire and skein edging to improve the wear resistance, rust resistance, and the smoothness of the product, so that the product quality can be upgraded to a higher level.
At present, the textile industry is increasingly demanding for supporting textile equipment, and now the country also attaches great importance to the technical level and quality requirements of textile equipment.
Provide customers with the most cost-effective products
Long Wei, Chairman of Longway Textile Machinery (Suzhou) Co., Ltd.
In the past two years, we have sold more than 600 long spinning yarns in China. We have won the favor of Chinese customers by stable product quality and superior cost performance.
Nowadays, the challenges facing the transformation and upgrading of Chinese textile companies are in need of high-tech textile products to escort. Therefore, we resolutely decided to invest in the establishment of a factory in Wujiang Economic and Technological Development Zone, Jiangsu Province.
Special companies can also do a good job
Lu Ximing, general manager of Wuxi Hongda Textile Machinery Parts Co., Ltd.
This year, the company has organized Wuxi's special "2012-2014 Rolling Plan" to form a strategic framework based on "special parts, exceeding special parts, strengthening the main business, and diversified development".
Our company has continuously introduced foreign processing equipment in recent years, and its processing precision and efficiency have been significantly improved, ensuring that the company's product quality continues to maintain its leading position in the industry.
Provide customers with energy-saving solutions
Schneider Electric China Industrial Division
Machinery Business Solutions Business Director Shang Leyang
All of Schneider Electric's cases are intended to deliver to customers the three most important values: improving machine performance, optimizing the total life cycle cost of the machine, and saving energy. When we are doing solution business, we must determine the service, provide consulting services for customers, understand their needs, help them improve, apply the design engineer team, and provide solutions that customers need.
To be a guide for new technologies in the textile industry
Cixi Solar Island Textile Technology Co., Ltd.
This year's market sales situation is grim, which is a test for enterprises and an opportunity.
Textile products change every day, which requires textile machinery and equipment companies to constantly develop new products. In the past, most textile machinery companies developed products based on customer needs and market changes. In the future, we must first develop new products that will guide our customers' needs and be a new technology leader in the textile industry.
Intensive farming is to improve competitiveness
Rizhao Yuhua Machinery Co., Ltd. General Manager Zhang Yantao
Yuhua Centered on the company's work theme of "stabilizing growth, ensuring income, and promoting balance" in 2012, starting from internal management and product technology innovation, improving the level of modern management, increasing product technology content and improving product quality.
The experience of operating companies tells us that competition is the competition of quality, price, and service. All this is concentrated on products, but its essence is the ability of an enterprise to reflect innovation, manufacturing, cost, and management.
High-end flat belt to win market opportunities
General Manager of Jinan Tianqi Special Flat Belt Co., Ltd. Wang Lanxi
Faced with the textile situation that is not optimistic this year, the company has always been market-oriented and has forward-looking plans for product development and market development.
Now, user companies are paying more attention to the issue of energy saving, consumption reduction and labor reduction. What they need is a product with a high degree of automation, a high speed and a long roll of large cars. Therefore, high-end equipment will have a larger room for growth. As long as the product has excellent performance and high cost performance, there will be no market.
Competing as a leader in the equipment industry
Chairman of Chongqing Golden Cat Textile Equipment Co., Ltd. Yang Chongming
Under the predicament of this year, the company chose to go against the trend and invest more in technical reform than in any previous year.
The direction of enterprise transformation and upgrading should shift from the past labor-intensive to technology-intensive and capital-intensive. From the past, mainly relying on labor to control product quality and improve labor efficiency has shifted to mainly rely on high-precision, automated equipment to ensure Product quality and efficiency increase.
We have to survive healthily
Liu Xin, General Manager of Tongxin Textile Machinery (Wuhu) Co., Ltd.
The company's production and operation conditions were relatively good in 2012, with output value and sales revenue doubling from the same period of last year, but the profits were somewhat unsatisfactory.
In the current downturn, first of all, what we need to do is to better meet the needs of our customers and survive in a healthy and healthy manner. Second, we must seriously consider the existence of the enterprise itself in production, technology, sales, and management. Advantages and disadvantages, opportunities and challenges.
Wait patiently for the industry to turn
General Manager of Suzhou Kyoto Ceramics Technology Co., Ltd. Deng Xiao
To cope with the current situation, it is necessary for companies to "wait". Products must continue to be developed. To cope with the difficulties, it is not really the beginning of the response from now, but it has started to deal with before.
As a company wishing to develop for a long time, it must be prepared to deal with possible economic changes and disadvantages. Technology must have reserves and new products must be introduced to make up for the output of the company, otherwise it will be eliminated.
"Three major" activities charge adjustment period
Tianmen Textile Machinery Co., Ltd. Chairman Shen Fangyong
Our 2012 production and sales value decreased compared to the same period of last year, but the company's TMFD81L sales volume with autoleveling drawframes increased significantly, and exports increased compared to last year.
Textile machinery equipment companies are the most affected by the market, and the country should formulate better policies and methods in the stability of the cotton market to promote the stability and development of the textile industry and support textile machinery and equipment companies.
Conversely looking for regular innovation is the norm
Laizhou City Electronic Instrument Co., Ltd. General Manager Zhang Xuebo
The company's test equipment was more than double the previous year's sales in the first half of this year.
Regardless of whether the market is good or bad, the company must adhere to a concept that is, "scientific and technological innovation, marketing innovation, corporate overall innovation" development. The company must continuously improve the quality of its employees, and must cooperate with relevant universities, research institutes and enterprises to improve product quality and solve problems in time for customers.
Instead of complaining about the market, you can change yourself
Huang Sanchun, general manager of Qingdao Sanxiang Machinery Co., Ltd.
The downturn in the entire industry cannot be changed by any single company. Only the company itself can change.
At present, the textile companies' demand for textile machinery has decreased, but the requirements for the quality of textile machinery have been significantly improved. What we need to do is how to better meet their needs, so that we can respond to it, and we can't satisfy it temporarily. The subject is seriously studied.
Take the professional path plastic model
An Haojie, deputy general manager of Hongda Research Institute Co., Ltd.
In 2012, the company's spinning and weaving non-woven fabric market gained a contrarian increase, and it signed eight spinning and melting production lines with domestic and foreign companies.
I believe that building a product that meets the requirements of the market and has core competitiveness is the way to survive. Continuous introduction of new products to guide the market is the eternal driving force for the development of the company. The more difficult it is, the more the company must focus on and adhere to the product. Research and development.
Strive to avoid weaknesses to sustain development
Xi'an Degao Mechanical & Electrical Group General Manager Chu Jianan
In the first half of the year, the company signed a contract and realized sales revenue of more than 50 million yuan, an increase of 23% over the previous year and a profit of 5 million yuan.
At any time, enterprises must pay attention to improving the operating mechanism of enterprises, safeguarding the virtuous circle of information flow, capital flow, and logistics, and avoiding panicking diseases and imposingly seeking to reverse the panacea, which will make business operations worse.
Spanning development in innovation
Honorary chairman Zhang Guangquan of Guangshan Baisha Fabrics Co., Ltd.
This year, the company decided to add new items such as splitting rollers, carding roller clothing, and cover keel, and added three brothers to the white shark clothing family to fully support the metal clothing.
To participate in global competition, enterprises must adapt to the transformation and upgrading of the textile industry and move forward steadily. Technological innovation, continuous development of markets and the creation of value for customers are three magic weapons for corporate development.
Large capacity polyester and short equipment to meet market demand
Shanghai Pacific Textile Machinery Equipment Co., Ltd. General Manager Liu Jun
In 2012, the company focused on the market expansion of high-capacity complete sets of equipment with energy-saving emission reduction and high-performance high-performance, focusing on the development of domestic and foreign markets.
Only if we truly grasp the core R&D technology and launch complete sets of equipment with high reliability, strong stability and excellent cost performance, will we not be subject to the monopoly of others.
Win the market with quality
Jiangyin Youbang Textile Machinery Co., Ltd. Chairman Li Ruizhong
AIA's market sales this year were basically the same as last year, with 1~5 month growth compared with the same period of last year, but it dropped sharply from the same period of last year and started to rebound in the second half of the year.
The coming years will be a major and severe test for the textile machinery industry. Only when companies constantly improve their products, upgrade their technologies, and enhance their overall strength, will they not be eliminated by the market in the future.
Create product value for customers
Qingdao Tianyi Group Red Flag Textile Machinery Co., Ltd. Sales Deputy General Manager Chen Lei
This year's market is indeed not good, but the sales volume of Hongqi Textile Machinery is still growing steadily, and has also achieved good results in bidding projects of major factories.
Our development of textile machinery equipment is aimed at improving production efficiency, reducing labor, improving product quality, meeting the requirements of yarn variety innovation and small batch and multi-variety production models.
It is not a dream to sell 10 billion yuan in 5 years
Wu Xudong, general manager of Jingwei Co., Ltd.
The company's core competitive advantage led by technological innovation this year has become even more prominent. In the first half of the year, it had 89 valid patents, and the new product rate reached 47.43%.
Enterprises should implement a full range of quality improvement activities through the reform of quality management system, and through a series of measures such as intensified reforms and reforms, and promotion of management enhancement, continuously improve the ability of companies to respond to the market and resist risks.
Injecting innovative genes into water jet looms
Qingdao Haijia Machinery Co., Ltd. Chairman Wang Anxi
In the first half of this year, Qingdao Haijia increased its R&D efforts. The HJA-N series of air-jet looms launched in June received more than 30 large and small delegations in four months and signed more than 300 first batch orders.
Enterprises should encourage the idea of ​​innovation, but also emphasize that the idea of ​​innovation should be transformed into real value. Only innovation that can bring value to enterprises can be effective innovation.
Create specialized enterprises with special loom openings
Chairman of Jiangsu Niupai Textile Machinery Co., Ltd. Liu Qunxin
This year's order status of the company is not bad, mainly based on filaments. The transformation and upgrading of the industry is a major change in the country's encouragement and guidance of enterprises, upgrading from low-value-added to high-value-added, from extensive to intensive, and this upgrade and transformation is more conducive to economic development and social development.
Pneumatic Shovels,CZ-2 Pneumatic Shovels,Industrial Pneumatic Shovels
CNC Machining Part Co., Ltd. , http://www.nscncpart.com